More than twenty years ago, I did not manage to find and lead a lifestyle "in flow, in balance, harmonious, happy and always healthy", in my world with the job of my dreams, as a young person who was hungry for life, who loved her lifestyle and wanted to experience, discover and try so many things.
I had a longing for something that I did not know at that time.
Today, in my mid-40s, I know that I have found it.
In Ayurveda, Yoga, Traditional Chinese Medicine (TCM) and other comprehensive methods, which show me again and again that life is simple and that I don't have to be socially excluded to live my modern life in harmony with nature, between job, family, friends, dreams, much hunger for life… missions and visions.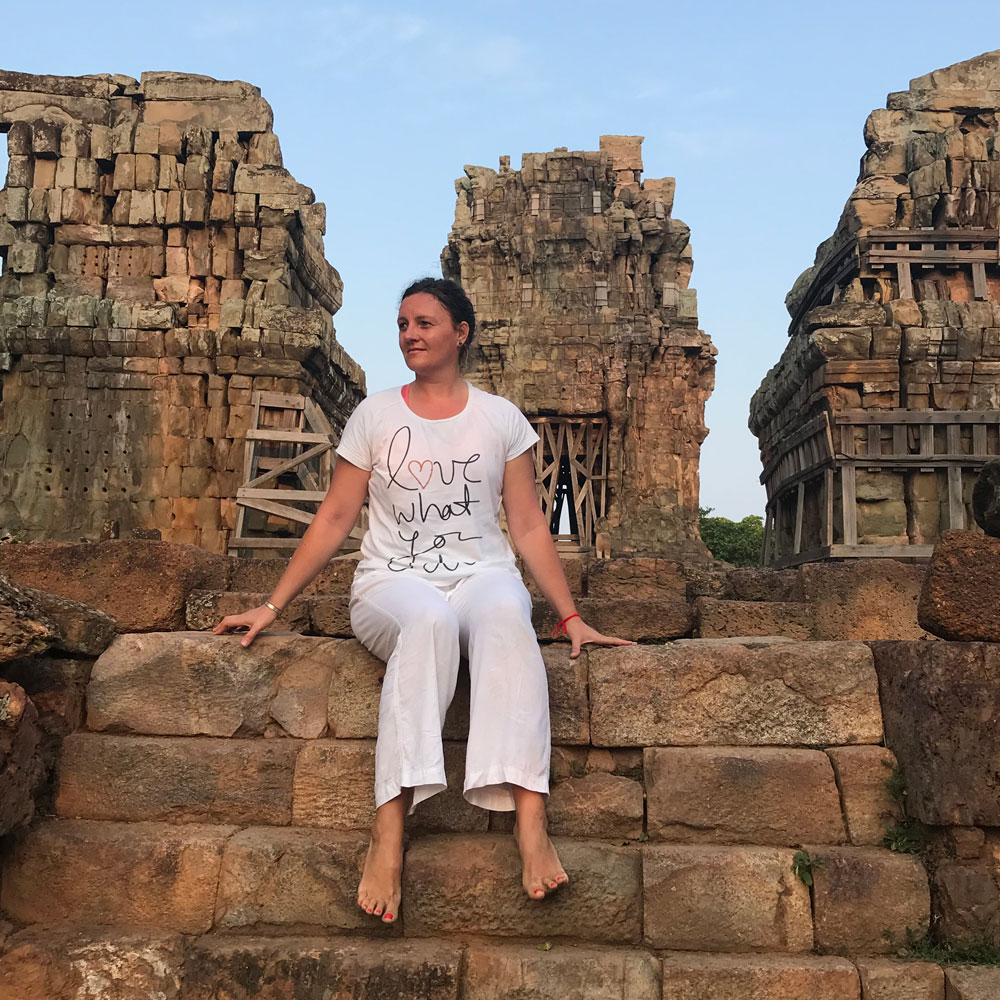 MY Life
"At the age of 13 I left my small village in the former East-Germany to find my luck as a competitive athlete and discover the big wide world… "
school education until 1992: Sportgymnasium Magdeburg (rowing / cycling)
training/ study: Hotel Management Assistant / Specialist for Marketing & Communication / Marketing Business Economist
until 1998 various positions in the hotel industry in Germany and the UK
"1998 to 2013 a fabulous, educationally rich and varied time in Hannover, Braunschweig and Switzerland".
until 2001 Marketing @ Maritim Hotels Hannover
until 2012 Training Ayurveda Practitioner @ Zeit.Raum and AyurvedaLounge.Pune
2001 – 2013 Marketing @ TUI Headquarter in Germany
2012 -2013 Training Ayurveda Therapist @ Zeit.Raum and AyurvedaLounge.Pune
"New home, new visions: Welcome to China! The cosmopolitan, the vibrant life and the intensive path to health and happiness in Chongqing and Shanghai."
2013 – 2016 Organising and conducting Ayurveda workshops & retreats in Chongqing
2015 Yoga Teacher Training, Hatha 200hrs @ SYM Shiatsu Yoga Mediterraneo
2015 – 2016 Yoga teacher in Chongqing
2016 participation in seminar Ayurveda & Yoga Therapy Training @ Yoga Diksha Shanghai
2016 – 2018 Yoga teacher in my own yoga studio in Shanghai with group and individual classes
2016 – 2017 Advanced training Yoga & Ayurveda Therapy @ Rosenberg European Academy for Ayurveda
2017 – 2018 Yin Yoga Teacher Training 200hrs @ Tribe Academy/ BlackMatYogi
2017 Advanced training Ayurveda Health Consultant @ Rosenberg European Academy for Ayurveda
until 2018 organising and conducting Ayurveda/ Yoga workshops & retreats, health, nutrition and lifestyle counselling in Shanghai
2017 to 2018 attending courses and further training in Traditional Chinese Medicine (TCM) @various providers in Shanghai
2017 to 2018 Advanced training for Coaches @ British International School Shanghai
"Back to Germany! New home, same visions, the vibrant life and the exciting path to even more health and happiness in Frankfurt and the Rhine-Main area."
since 2018 management, organisation and realisation of Ayurveda workshops, consultation and counselling @ AyurSoul Health Store & Cafe (the City-Spot of Rosenberg Ayurveda) in Frankfurt
since 2018 participating in various Ayurveda lectures, courses and seminars @ Rosenberg European Academy for Ayurveda and AyurSoul Frankfurt
2020 Meditation Teacher Training & Traditional Chinese Medicine (TCM), 100hrs @ Tribe Academy/ BlackMatYogi & Dr. Aaron Bullington
TOP NEWS:
Since 2021: Self-employed with AriVeda – Coaching, Workhshops & Retreats.
2021: Book publication (in German) "Einfach machen: Ayurveda. For more vitality and joie de vivre in everyday life & business" (Lemon Media Verlag)
2022: Course leader at the Rosenberg Ayurveda Health Centre on selected dates: "Rasayana – Ayurveda Regeneration Cures"